While eating more plant-based is a fabulous idea for your health, there are a lot of things to consider to maintain a good energy balance. But eating plant-based isn't always a cure-all or the easiest. I often see vegans that are struggling with weight, energy, and digestion (just like non-vegans!) and are wondering how to choose the right protein sources for them. And when it comes to weight loss, being savvy with vegan protein sources for weight loss is a must!
If you have ever considered eating more plant-based or following a vegan or vegetarian lifestyle, I am sure that you probably have heard the world scream at you: "but where will you get your protein?!?!" Well… maybe they should be reading this article too!
Vegan sources of protein have never been easier to find in grocery stores, markets, and even online shopping and meal delivery services these days. While I highlight some of my favorite products you can find in groceries stores below, we must first discover what these products are based off of so we know where this protein comes from!
The good news is that I've already taken the guess work out for you and listed five vegan protein sources that are dietitian-approved for weight loss. And as an added bonus, I've included some of my favorite brands and where to find them below! As a result, I hope you consider how you can incorporate at least a few into your lifestyle… or even branch out to try something new from this list! So without further ado…here's the my Top 5 Dietitian Approved Vegan Protein Sources for Weight Loss:
1. Soy Products: Tofu, Tempeh and Edamame.
All derived from soybeans, these three vegan protein sources are a great sources of nutrients and can be added to almost any meal! Tofu, one of the most commonly found vegan-friendly grocery items nowadays, is made from soybean curds that are crushed and pressed together (sort of like cheese!). Tofu doesn't have a distinct taste (unlike tempeh) and can easily absorb the natural flavors of any dish or sauce you add it to. Tempeh, known for its nutty flavor, is rich in B vitamins and is great to add as a protein source to soups, burgers, stir-fry and more. Edamame, which is an immature soybean, should be boiled or steamed before eating, but is rich in fiber and folate. You can eat edamame as a snack or add it to a stir-fry for a great taste and added protein. 
1 serving of these products (3.5 ounces or about 100 grams) can pack 10-20 grams of protein. 
2. Nutritional Yeast
This powerhouse source of protein is way undervalued! Nutritional yeast is a deactivated strain of Saccharomyces cerevisiae and is commonly found as yellow powder or flakes. It has a cheesy flavor and is a great addition to pasta dishes or even sprinkled on mashed potatoes or popcorn. Nutritional yeast can come in two forms: fortified or unfortified. Fortified nutritional yeast tends to contain higher levels of magnesium, zinc, copper, manganese, and all the B vitamins (including B12). Vitamin B12 tends to be a crucial for those who choose a plant-based lifestyle, making nutritional yeast a great option to add to your pantry! 
1 ounce of nutritional yeast can pack a solid 14 grams of protein and 7 grams of fiber. 
3. Amaranth and Quinoa
I love ancient grains! Known for its complete protein profile, amaranth and quinoa are a great way to add protein into your meals. Though these ancient grains are gluten-free, they also are a great source of fiber, phosphorous, magnesium, and iron. You can mix these grains into your salad, casserole, or even a veggie dish for a great complex carbohydrate and protein option. 
1 cup of cooked amaranth or quinoa provides 8-9 grams of protein.  
4. Chickpeas and other Beans
Chickpeas, also known as garbanzo beans, are just one of the many beans that can be essential to your weight loss plan. Known for its high protein, high fiber profile, there is a bean for everyone! Kidney beans, red beans, black beans, pinto beans, the list goes on and on. 
Research indicates that incorporating just a few servings of beans into your weekly meals can help lower your cholesterol, control blood sugar, and help with satiety and fullness… all good for promoting weight loss. 
And if you're wondering how to add this great ingredient, try using beans in chili or soup, mixed with rice or quinoa, and even in casseroles. 
1 cup cooked beans is approximately 15 grams protein. 
5. Lentils and lentil pasta
Believe it or not, lentils are not the same as beans! Lentils are gorgeously high in fiber and promote a healthy gut ecosystem, which is essential for weight loss! 
Lentils can be added to just about any recipe similar to how you use beans, but it can also be found in the form of pasta and noodles! As a result, making a simple swap from white or wheat pasta to lentil pasta can provide you with more fiber and protein in your meal than you ever imagined. Lentils are also high in folate, magnesium, and iron. 
1 cup of cooked lentils can provide almost 18 grams of protein and 50% of your daily recommended fiber goal. 
Though there are plenty more vegan protein sources than the ones listed above, let's move on to the products that you can buy, eat and love! Most of these products can be found in regular grocery stores such as Publix, Meijer, Kroger, Walmart, and even Whole Foods or Trader Joe's. You can easily do a quick google search to be sure it's at the store nearest you! 
And remember… this list is not exhaustive, but is meant to help you get kickstarted into making some great vegan protein choices.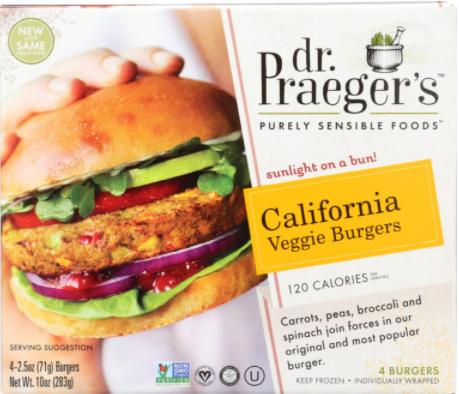 Dr. Praeger's
These veggie burgers by Dr. Praeger's are no joke! Made with the ingredients you see right here on its box, these are a nutrition powerhouse option for vegetarians. Dr. Praeger's also makes other great products perfect for vegetarians and vegans alike! 
These Veggie Burgers:
Calories 120; 
Fat 5g (sat 1g); Protein 5g; 
Carb 14g; Fiber 4g; Sugars 1g; Chol 0mg; 
Iron 1mg; Sodium 240mg
The Alpha
Know for its extensive product line of vegetarian and vegan foods, The Alpha can certainly provide you with some great options that are plant-based and non-GMO certified. 
All-day burritos, breakfast burritos, crumbles, burgers, nuggets, and more, this brand is certainly one to look for. 
Considerations: be sure to watch the carbohydrate, sodium, and fat amounts in different products.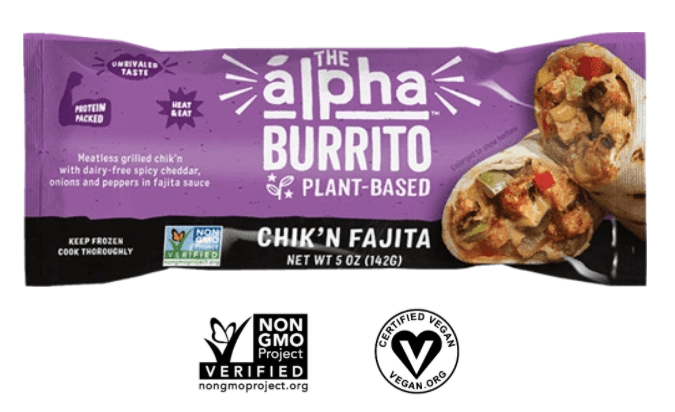 This Chik'n Fajita:
Calories 290; Fat 11g (sat 6g); Protein 10g; Carb 40g; 
Fiber 1g; Sugars 4g; Chol 0mg; 
Iron 3mg; Sodium 430mg
Sweet Earth
This brand is known for its quality ingredients that make your parties the place to be. Burgers, pizza, sausage, burritos, chik'n and bowls, this brand definitely knows how to pack the flavor and provide a sustainable way to get in your protein! The best part? Most of their products are vegan!
Considerations: watch sodium in different products. 
Chik'n Apple Sausage links: 
Calories 190; Fat 9g (sat 1g); Protein 15g; Carb 11g; 
Fiber 1g; Sugars 5g; Chol 0mg; 
Iron 2.7mg; Sodium 400mg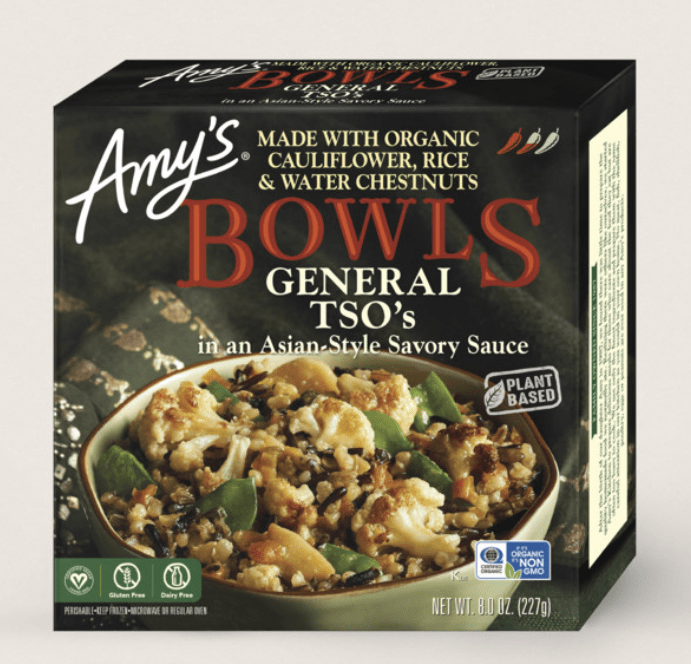 General Tso's Bowl: 
Calories 270; Fat 11g (sat 1g); Protein 6g; Carb 36g; 
Fiber 4g; Sugars 6g; Chol 0mg; 
Iron 2mg; Sodium 790mg
Amy's Kitchen
This brand is a trailblazer for vegetarian and vegan yummy products! Made dairy-free, gluten-free, nut-free, and either vegan or vegetarian, this brand knows how to offer a variety of tasty alternatives to meat. Found in the freezer or refrigerated section at almost any local grocery store, you can find a variety of burritos, soups, bowls, dumplings, pizzas, and casseroles that will quench your taste bud cravings for sure. 
Considerations: watch for high levels sodium and carbohydrates compared to protein.  
Morning Star Farms
Vegan products developed by Kellogg's, you can find protein packed chik'n, burgers, and breakfast products at your local grocery stores and online. Their chik'n nuggets and chik'n patties are simply the best texture! 
Considerations: fat content across different products
Chik'n Nuggets: 
Calories 200; Fat 9g (sat 1.5g); Protein 12g; Carb 20g; 
Fiber 3g; Sugars 2g; Chol 0mg; 
Iron 1.7mg; Sodium 370mg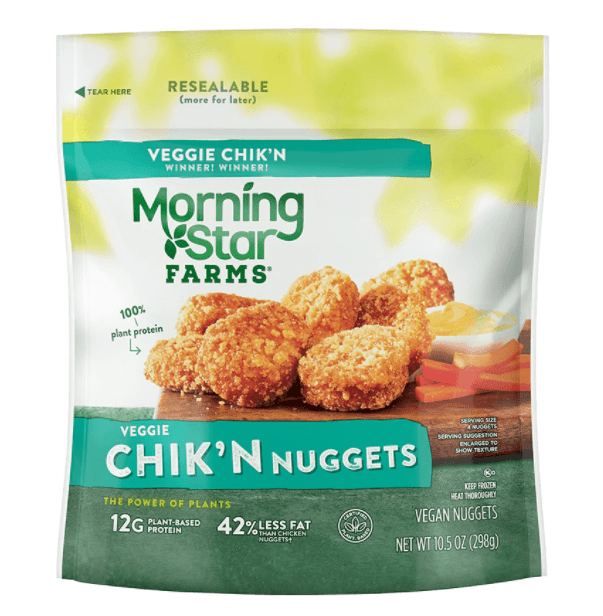 Though this list was not exhaustive in the slightest, I hope that you start to branch out with your food choices and find sustainable, healthy options to start including in your weight loss journey. Being mindful of what you eat is important, but it doesn't have to be a struggle! That's why I developed this list and I hope you found some inspiration to hit the grocery store with more confidence than before.
If you want a fun recipe to get started with, check out my High-protein Vegan Alfredo Pasta Shells recipe here: https://busygalnutrition.com/high-protein-vegan-alfredo-pasta-shells/ it's packed with vegan protein for weight loss!
And if you're wondering how you can live a more plant-based and sustainable lifestyle while still reaching your weight loss goals? Reach out! I'd love to work together to make an individualized plan for your goals today.