At Busy Gal Nutrition, we believe YOU are the expert on you. Every person we have the privilege of working with has unique goals and needs. Check out some of our Busy Gal testimonials below, and if you're ready to write your own success story, learn more about coaching here or apply to the Busy Gal Nutrition coaching program here!
Last week I reached my goal weight with 28 lbs. GONE in 5 months! My previous "diets" consisted of severely cutting or eliminating carbs. But...I LOVE potatoes and bread and felt deprived. Low fat plans never worked. I enrolled in the Busy Gal Blueprint Course, which is self-paced. I recorded progress, made notes in my journal on healthy tips from each course module. I made changes in my daily eating and drinking habits. I set and measured goals, began to think of food as "fuel" for my body, and I learned about serving sizes, macronutrients and mistakes to avoid. I am now confident that I can maintain my goal weight, because I am well-educated on how to proceed. I have a huge sense of accomplishment! My energy level is off-the-charts, and I feel well. This sound and practical nutritional program is helping people achieve their goals.
I've lost 3.2" off my midsection alone. My confidence has increased. My once "tight" clothes are loose, and I'm excited to shop for clothes again. I have more energy, I sleep better, and most importantly my mindset has completely shifted. I no longer deem foods as "good" or "bad" which means no more shame around eating things I love. Everything is just night and day from where I was before I met Laura. If you have a goal to lose weight, change/improve your relationship with food, or want to learn how to fuel your body specific to you, working with Busy Gal Nutrition is a no-brainer.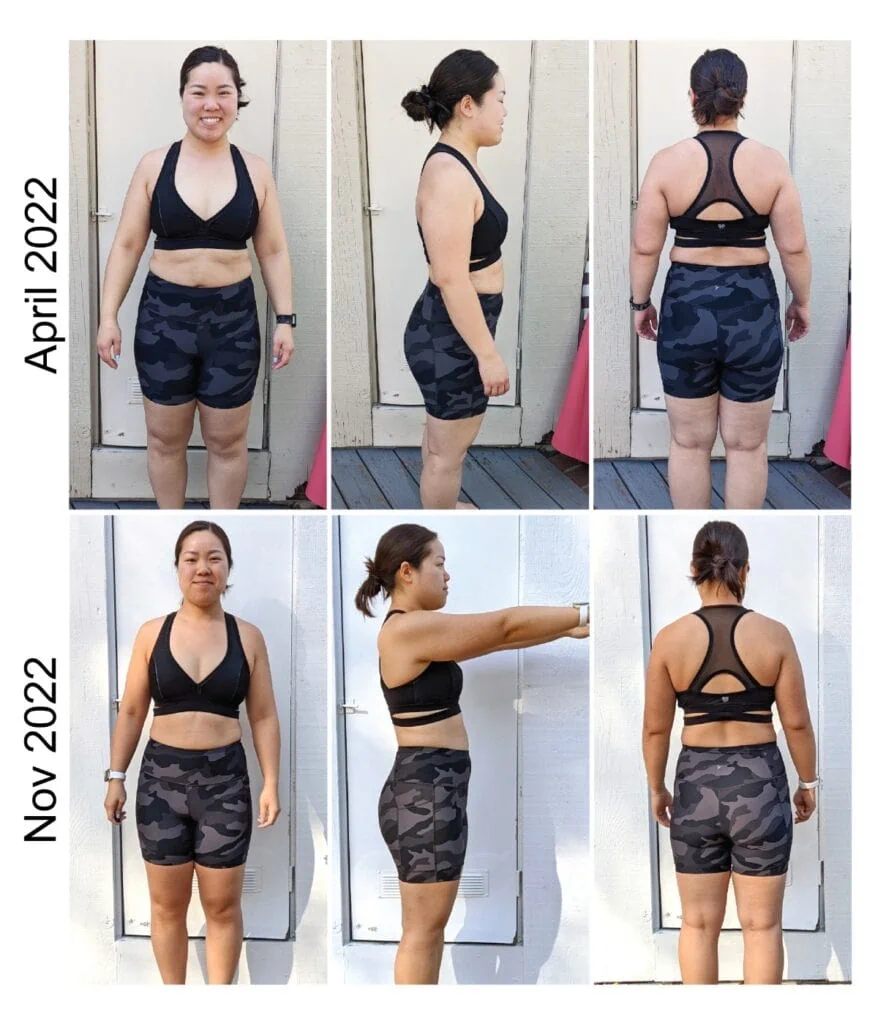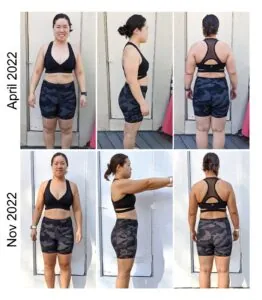 I'm back to my pre baby size which I didn't think was possible. I have tons of energy all day and have been loving shopping for new clothes for the first time since my twenties! I've calorie counted before and have constantly tried going "low carb," keto, and other fad diets; nothing worked and none of it was fun or sustainable for a total foodie. When Laura told me to eat more carbs, I thought she was nuts! I started eating a more balanced diet, including more healthy carbs with every meal AND more snacks. My biggest "aha" moment was that I was eating more each day, enjoying a variety of foods, and not only did I lose weight but my energy improved immediately - making me a better mom, employee and person in general. I never connected the dots between what you eat and how you feel physically and mentally. DO IT - it will be the best decision you make for yourself.
when I tried to do it on my own, I got overwhelmed with so much information out there. I needed someone to tell me just what I needed to know. And Busy Gal Nutrition came highly recommended. The very first breakthrough was realizing that I shouldn't and couldn't do it all at once. Going slow, building routines, and learning why I was doing different things made all the difference. If you're considering joining, just do it! The enthusiasm and support of a coach who understands your needs and goals are invaluable. The knowledge and tools are resources you'll have for the rest of your life. I'm at 234.8 now. I can't remember my exact starting weight, but that's almost 50 pounds lost! Thank you!!!!
Where do I even begin?! Busy Gal Nutrition should really be called Busy Gal Wellness - it is so much more than nutrition. We also focused on movement, mental health, sleep, and morning/evening routines. Leah Ruth helped me to work on the many aspects of health that contribute to a healthy, maintainable weight. I never felt like I was on a diet - I was building habits toward the lifestyle I wanted to live, and I'm living it! My weight is down 29/30 pounds from where it was when I reached out to BGN. I feel more like myself, and I feel good in my clothes again. I no longer want to hide myself. My energy has improved significantly since I started, and I'm still working on my sleep environment and habits to see how much more I can improve my energy.
I came to Busy Gal Nutrition several months ago, wanting to lose a little weight, balance hormones, and gain my confidence back. I had just been diagnosed with PCOS and had gotten in an unhealthy state. I had tried this journey on my own but got to a plateau. Leah Ruth helped get me back on track. I was able to lose about ~20lbs (30 lbs total), several inches, and 4.5% body fat . The best part was that I learned how to maintain that lifestyle. She provided me with the tools and resources that I needed to be successful. She didn't just teach me what to eat but how to eat. Most plans or "diets" don't teach you how to maintain it once you hit your weight loss goals, but busy gal did. I am comfortable and confident at my maintenance calories, which is (in my opinion) one of the most important parts of a weight loss journey. I used to cringe when going on vacation or to various events when I was in "diet mode", but now I am confident on how to tackle these situations. I am able to enjoy the foods I love, yet still stay on track. Better than any weight loss goal that I reached, I have gained my confidence back and am in a much better mental state. I really don't know that I could have done this without the support of busy gal! I 1000% recommend! Oh, and THE best NSV yet- I'm pregnant!! (Still very early of course) We were just about to start meds next cycle, but God had other plans
My energy and performance at derby practice has been so much better than it was before I started! Everything was really personalized. I felt like a priority, and I felt comfortable with Laura throughout the program. one of my favorite results I wasn't anticipating was gaining better ways to manage my stress. I'm fueling my body with good things while still having a life and eating what I like, too. I am so happy with the program and all of the wonderful advice and support I received from Laura! I definitely feel better equipped to nourish my body and to manage my stress.
If you're a perpetual dieter that just wants to find a routine to clear up your constant worrying about food and internal conflicts with it, this program is for you. I needed a way to keep my body fueled without doing mental gymnastics at every meal to decide what to eat, and this program gave me exactly that. I cannot recommend Busy Gal Nutrition and Leah Ruth enough. My mid-afternoon slump is gone, and my confidence with myself, my body, and my decisions has improved so much. My mental clarity has never been better, because my headspace feels so much clearer without always worrying about food.
Im feeling more physically confident than ever. I used to hit the 3pm wall every day, but I've been fueling my body properly and I have way more energy now. I've been sleeping better too. I have a solid morning and night routine to help keep my stress levels down, and my overall approach and outlook on life has done a complete 180. I'm doing lower impact workouts 3 days a week and getting outside more to walk and soak up some sunshine. I quit my high stress job and found an even better opportunity. I just have a super positive outlook on life these days. Laura and I mostly focused on nutrition and stress control, but this ended up touching every corner of my life. If you grew up in the early 2000s diet culture and feel like you're lost and hopeless and you're afraid of mirrors and 3 meals a day, do yourself a favor to unlearn the misinformation and learn the facts from someone who went to school for nutrition and knows what she's talking about. You're not broken. Carbs are GOOD for you. There are no magic pills or secrets. Busy Gal Nutrition will take you back to the basics and arm you with the ability to make good decisions for yourself going forward.
I haven't had to give up my favorite foods, cut out desserts, or give up going out to eat. Busy Gal Nutrition has given me the tools I need to succeed even after the program. They are a great group of encouraging coaches who really want you to succeed. It's never felt like a diet to me because it's not! It's a lifestyle change that anyone can achieve. My weight fluctuated between 5-10 lbs before I started. I had little energy due to my low blood sugar episodes. My confidence was low as I was always down on myself about being bloated or gaining weight. Now, I've lost a couple pounds and my weight only fluctuates about 1-2 lbs. I haven't had issues with my blood sugar in weeks! I also feel more confident and proud of myself for making my health a priority.
it's worth it to actually get true information about health and how your body works instead of all the BS you hear from every other diet book, or influencer, or whatever. For once I felt like I was not being lied to. When I hit 10 lbs. down that's when the lightbulb went off that it was really working. I feel more confident because I have more knowledge of how it all actually works and how eating certain ways feels in my body
I decided to get nutrition coaching from Busy Gal Nutrition when I had people I follow on Instagram posting about it and the success that they've had thus far. I was on the edge of whether to follow through as it is a little pricey however I tried to see it as an investment in myself not only now, but to have this knowledge in the future as well. As for weight I'm down almost 20lbs!! Which is definitely crazy to see that number going down, although I will say very slow as it's been about 5 months however everyone's journey is different and I didn't dive in head first right away. As for then confidence I have noticed wearing things that I never would normally wear, especially when I was on vacation at the beach too. I would say if you are considering seeking out Busy Gal Nutrition, you should go for it if you want to make sustainable habits that you can implement now and in the future. I went into this because I wanted to figure out if fixing my nutrition can at least improve my migraines and it has. I also went into this as a healthcare provider myself and wanting to be a better role model for my patients and to be a healthier me in case I ever do want to have kids in the future as well.
Since starting this program I've now lost about 20 lbs. I'm now able to get through the day without taking naps in the afternoons. I've now joined a gym and have been consistently going twice a week. I can already tell that I'm a lot stronger than I was a year ago. One breakthrough we had after I started the program was how much protein I should be eating a day vs. how much I was eating. I was eating about a third of what I should have been. I also learned that the reason I was having such bad joint pain was because a lot of the foods I was consuming were really inflammatory. Cutting those out and replacing them with anti- inflammatory foods made the pain stop. I would say that although it is a commitment, it is worth it in the long run because you will start to feel so much better and have more energy. Staying consistent is key to making progress.
I can definitely tell a difference in my weight and how my clothes fit. I have more confidence in some clothing that I didn't have before I started this program. I feel that days that I am working I have more energy due to me fueling my body with nutritious foods instead of food that make me feel sluggish and sleepy. I would recommend the Busy Gal nutrition coaching program to any and everyone. I LOVE that I can text or send a picture of what I am eating and receive feedback in a timely manner. I like to do that for accountability which is what I need.
I'm still amazed I lost 22.4lbs (141.6 on 01May23). More importantly, I don't crave sugar anymore. Never thought I could ditch sugar, but eating properly has completely changed my relationship with food. Realized not all the food as to be home-made; its ok to use store bought; realized carbs are ok and eating bananas is ok ! This program was life changing in so many ways. I had no idea how much I needed this coming off a very hard time in my life. The constant support - even when issues were not related to food - was phenomenal and exactly what I needed to feel like myself again. Forever grateful for Leah Ruth and the Busy Gal team !!
I was ready to start working with a qualified nutritionist to help address a healthy nutrition lifestyle and develop a plan that fits my needs. Laura helped me accomplish all my goals. before working with Laura my knowledge of labels, fats, fiber, and protein spotty at best, she increased my knowledge, gave me enthusiasm and keeps me focused and motivated on my health physically and mentally. My weight goal was reached and my energy was improved 100 percent. I feel amazing. invest in yourself. Everyone deserves to start a great life long program that truly teaches you all aspects of nutrition health and exercise that will be enhance for your body for life.