We know according to this post that high-protein pasta alternatives are kinda my thing. Who doesn't love pasta? Who doesn't love a simple, healthy swap? Not to mention, plant-based, dairy-free foods are gaining popularity because we know that limiting our meat and dairy consumption and increasing plant consumption may be better for our health. Enter: this high-protein vegan alfredo made with Banza chickpea pasta shells!
I'm an ambassador for Banza chickpea pasta because their brand is far and beyond one of my favorites. A serving has 25 g protein, 13 g fiber, and fewer net carbs than regular pasta. AKA more balance. I typically have a couple of boxes in my kitchen cabinet at all times because they are so versatile, healthy, and taste just as good as regular pasta. There are all sorts of recipes you can create with the pasta (they also now offer rice!). Sometimes I don't even use a recipe and just make something with whatever veggies and sauce I have on hand.
This particular recipe is inspired by a Banza recipe, except I used whatever I had in my kitchen, which, by the way, was practically nothing. You may have never heard of some of the ingredients I used, so I'll explain what they are and why they are great additions to keep in your pantry!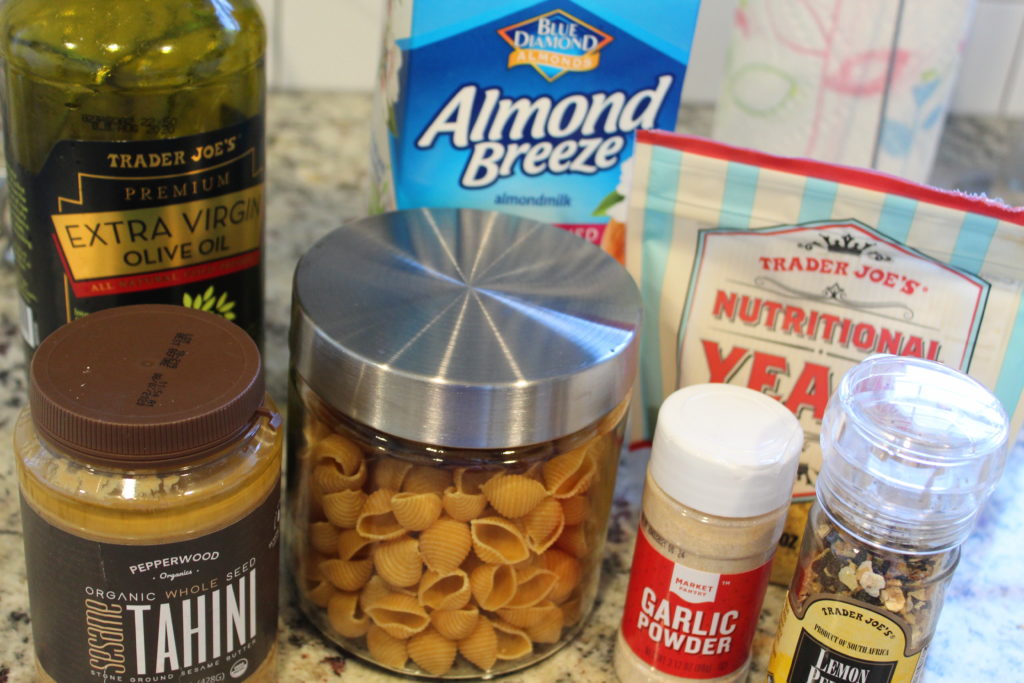 Tahini:
Tahini is sort of like peanut butter, but it's made out of pureed sesame seeds! It's used in middle eastern dishes like hummus. I'm seeing it more and more at conventional grocery stores like Super Target and Publix. Similar to peanut butter, it is mostly fat and it is about 90 calories per tablespoon. The one I used I found at Target and it is made of 100% organic sesame seed. It's super tasty and versatile!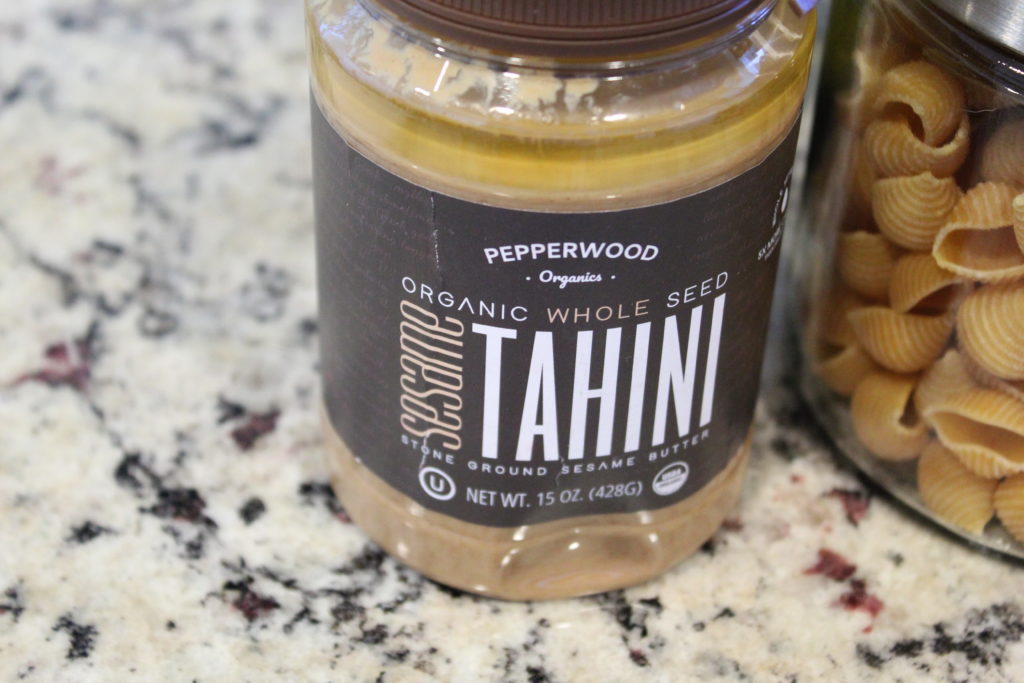 Nutritional yeast:
utritional yeast is deactivated yeast that you can mix into pretty much any dish that calls for cheese. It has a strong, nutty/cheesy flavor that makes it perfect for vegan recipes. Don't confuse this with the activated yeast that is used to make bread. Nutritional yeast is awesome because it provides a great source of protein, B vitamins, and fiber. I have had a difficult time finding this sometimes in the store, but it can be found at Whole Foods, Trader Joe's, and online at Amazon!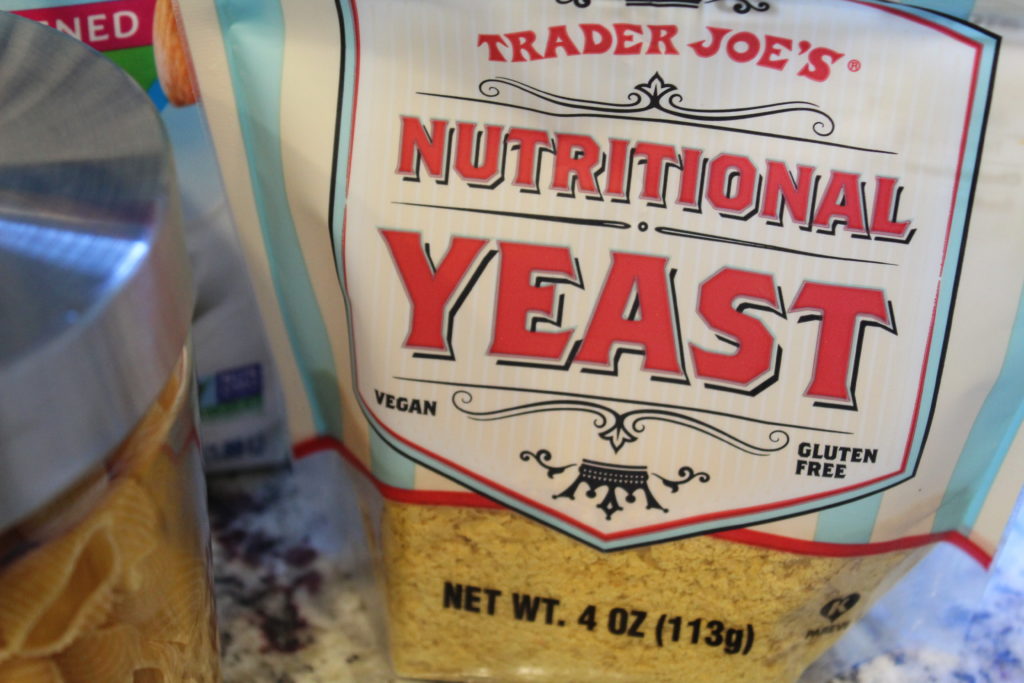 This recipe cooked up super fast, took very few ingredients, and turned out so yummy. The perfect healthy alternative to traditional cream- and butter-heavy Alfredo sauce- which is one of my all-time favorites.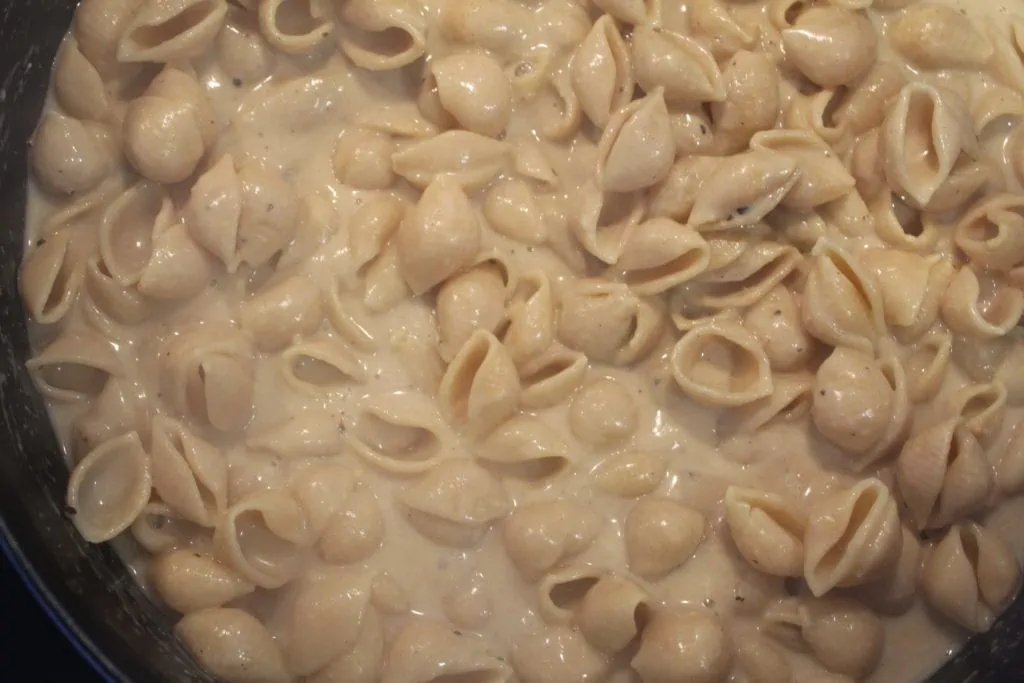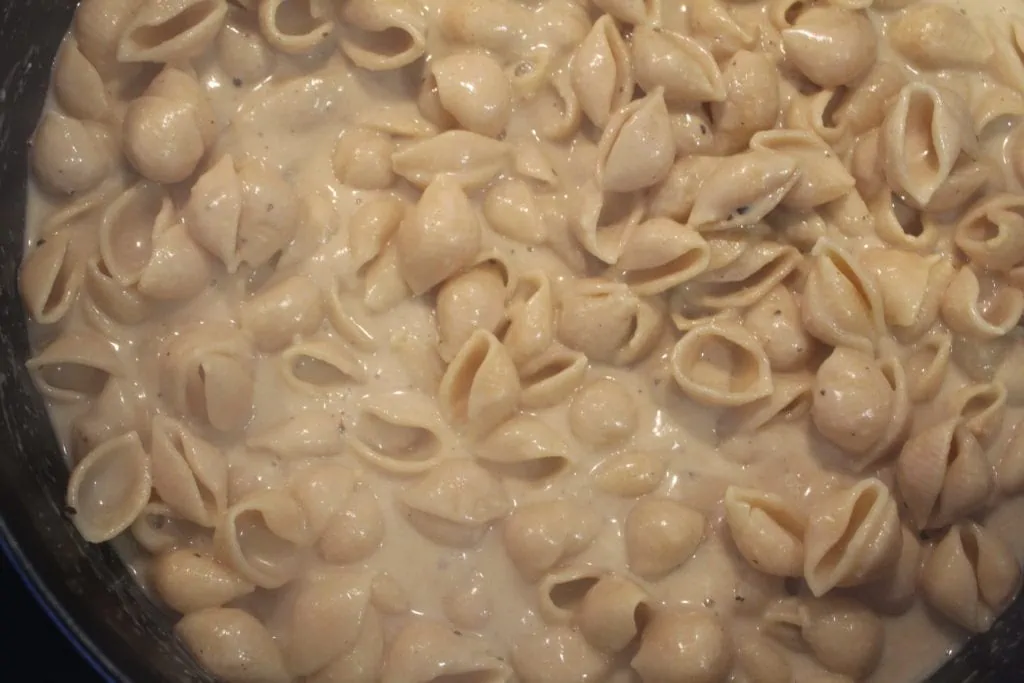 Now for the recipe!! I got 4 good-sized servings out of this, and it's perfect to pack for lunch. Pair it with green beans, a salad, some fruit. You're well on your way to eating more plants. 🙂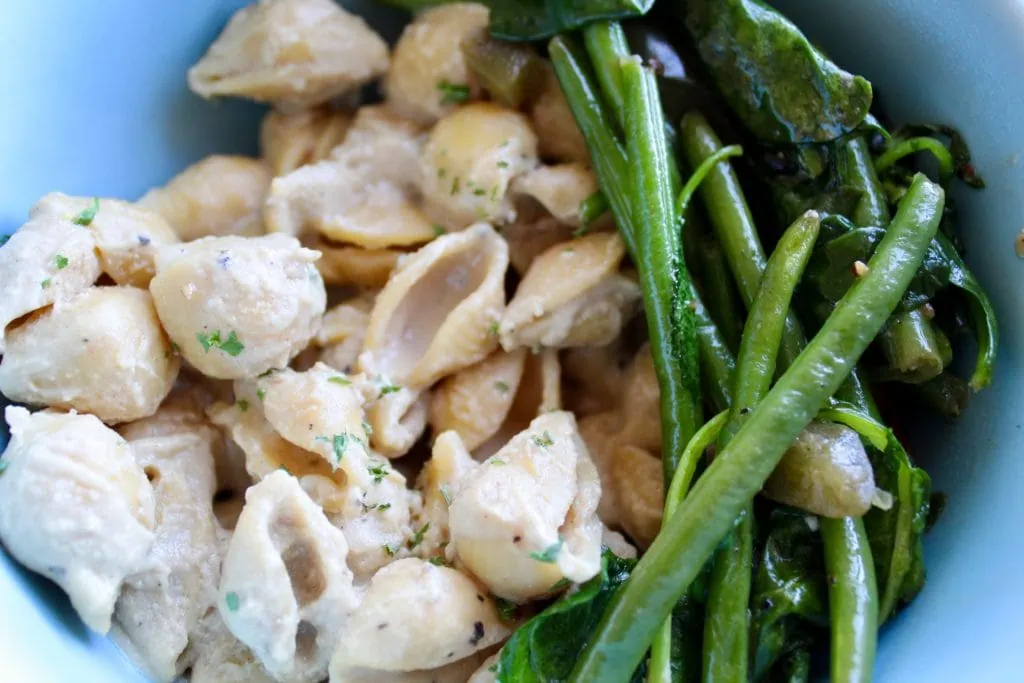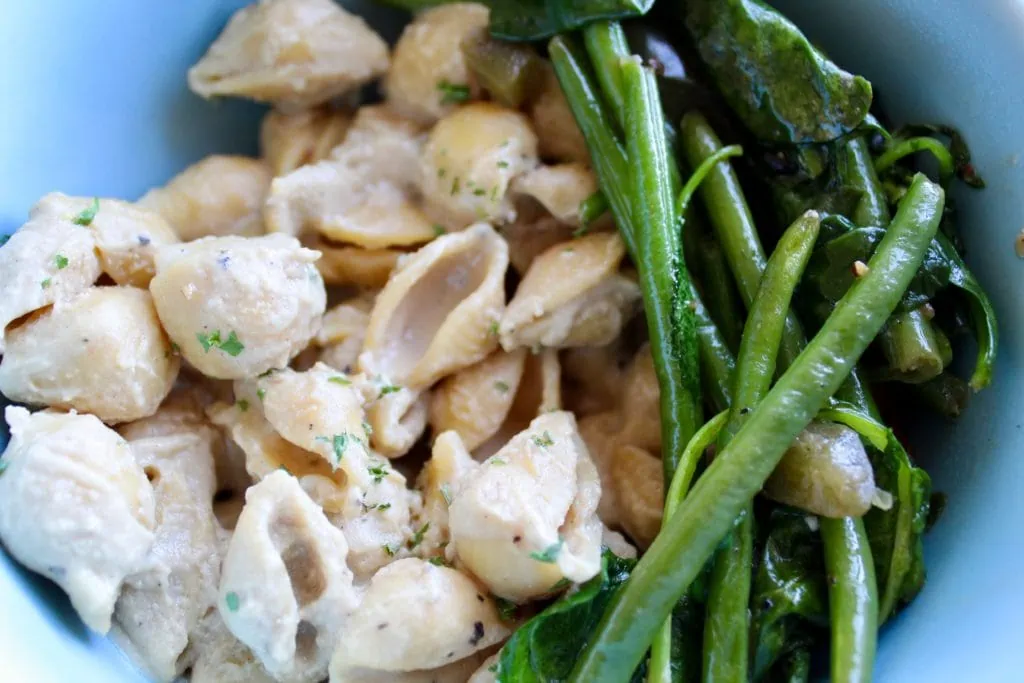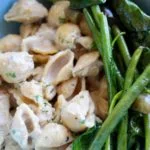 High-Protein Vegan Alfredo
Ingredients
1

box

Banza shells

you can use whatever your favorite pasta is!

1/4

cup

tahini

1/4

cup

unsweetened almond milk

make sure it's plain! vanilla would be weird!

2

tbsp

nutritional yeast

1

tsp

garlic powder

1

tsp

lemon pepper seasoning

2

tbsp

olive oil
Instructions
Cook the pasta according to the directions on the box.

While the pasta cooks, stir together all the rest of the ingredients to make the alfredo sauce. Strain the pasta, but save some of the pasta water.

Add the alfredo sauce, pasta shells, and pasta water all into one pot and warm it through on low heat. Toss well and you're all done!