I always like to say "eat your favorite foods, but better" and I feel like this chicken parmesan bake delivers on that.
This recipe is so simple and delicious. With just a few ingredients and a couple minutes to throw together, this perfect weekday dinner can provide a meal for one or for the whole family!
This is a prime example of a comfort food recipe that is a lighter swap for a traditionally heavier meal. Who wouldn't want comfort food without the added fat and calories? I normally like to have this with zoodles or whole grain pasta, but you could even pair it with orzo or gnocchi as I have in the picture! You do you here. Add a salad or veggie and you have a meal!
Another awesome way to use this recipe is for packed lunches. Make a big casserole dish of it on Sunday night, and pack a serving for lunch every day! It's great reheated in the microwave.
So, here's the deal: You can really "bread" the chicken with whatever you want. I like to use panko bread crumbs because it's easy, but I also like using pulverized GG crackers to add fiber! You could use any other pulverized cracker too, like Ritz. Just remember: our aim on this recipe is "lighter" comfort food 🙂 Also, there are no measurements in this recipe because you can use as much or as little of each ingredient as you want!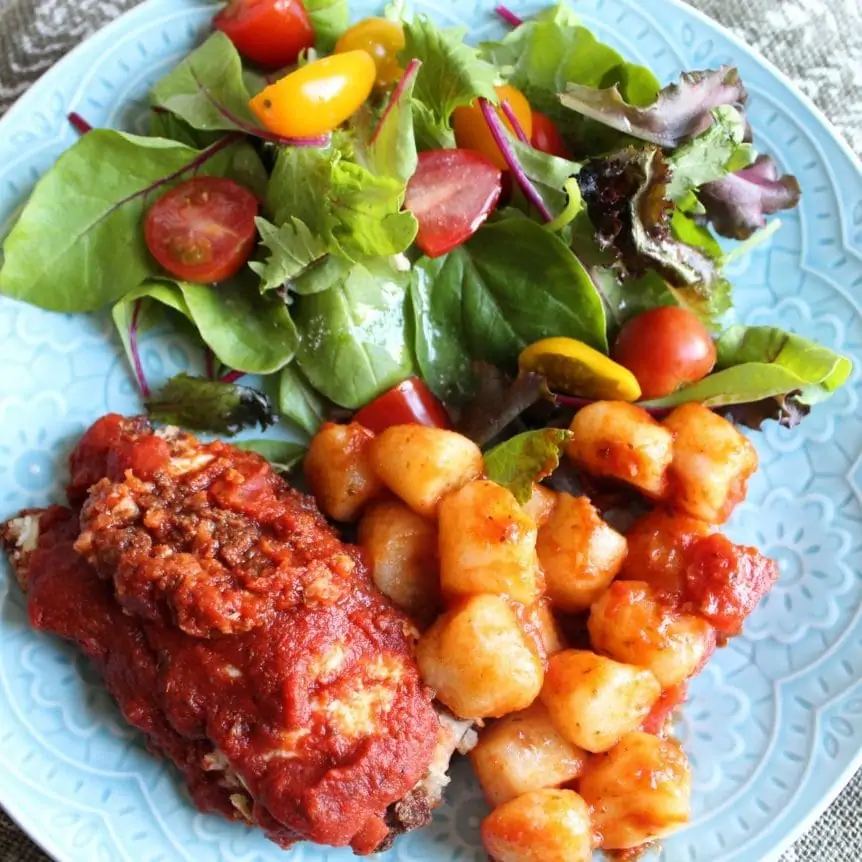 Healthy Chicken Parmesan
Ingredients
chicken breasts, sliced thin

parmesan cheese

bread crumbs (panko or crushed crackers)

marinara sauce

mozzarella or provolone cheese
Instructions
First, pre-heat your oven to 425 degrees.

Mix together your parmesan cheese and bread crumbs (or crackers). Coat your chicken breasts in the mixture and place in a casserole dish that has been sprayed or coated with a little olive oil.

Bake for 15 minutes or until edges are crisping.

Pull out your dish and top your chicken with a few spoonfuls of your favorite pasta sauce. Finish it off with a slice of fresh mozzarella or provolone cheese on each chicken breast and some additional parmesan.

Pop it back in the oven for another 10-15 minutes. Voila!