French toast is my FAVORITE childhood food. My mom made it for me all the time on "special" mornings like a Saturday or as a surprise before school. The thing about french toast is it has kind of a sugary connotation because when you get it at a restaurant it's COVERED in all the sugar and syrup. But this dairy-free french toast recipe will give you all the brunch vibes without all the inflammation.
The thing about french toast is you really only need 3 ingredients: bread, milk, and eggs. To make this a little lighter, I highly recommend trying it with an unsweetened milk alternative and a whole grain or sprouted grain bread for added fiber and vitamins and minerals! For this recipe, I used unsweetened vanilla almond milk and sprouted grain sourdough bread. You could also make this ~vegan~ with a flax egg instead of a regular egg!
Another way to make this less sugary and more nutritious is to use a syrup like NuNaturals low-carb syrup, a monkfruit-sweetened syrup, or stevia-sweetened syrup like Sukrin Fiber Syrup! These give you the maple syrup-flavored goodness without the sugar rush and calories of traditional syrup. There are so many options on the market to make simple healthy swaps for people that are trying to watch sugar and calories. Don't get me wrong- I love to use pure maple syrup, but since I tend to eat waffles and french toast almost daily I decided to make the switch 🙂
So, whip this up on a Saturday or even double the recipe to have leftovers for a weekday breakfast treat. It takes only a few minutes and pairs well with fresh fruit and coffee. Happy brunching!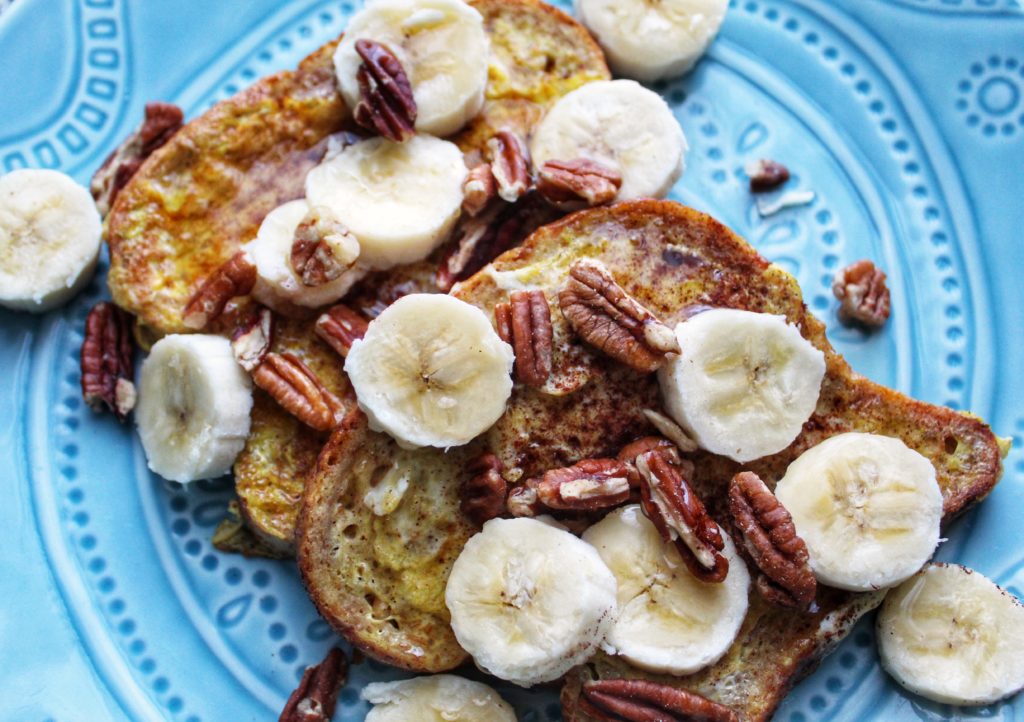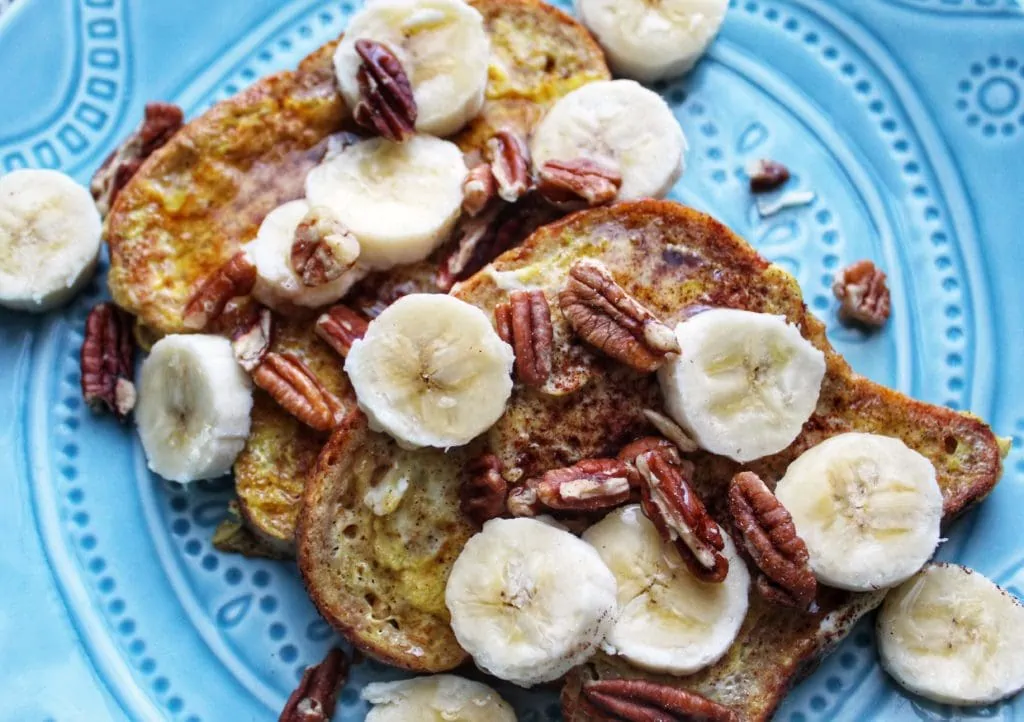 Dairy-Free French Toast
Ingredients
2

slices

bread of choice

I love sprouted grain sourdough or any other whole grain bread!

1

large egg

1/4

cup

unsweetened almond milk

or milk of choice!! I would just make sure it is unsweetened

cinnamon

to taste

nutmeg

to taste

1

tsp

smart balance butter or dairy-free spread

for the pan
Instructions
Mix the eggs, almond milk, cinnamon, and nutmeg in a bowl

Heat a large skillet on medium heat with the butter spread (you can also use coconut oil) letting it melt and cover the bottom of the pan

Dip 1 slice of the bread at a time into the egg mixture, letting it soak into the bread on both sides, before putting it in the warm pan

Cook until browned on both sides (approximately 3-4 min per side)

Top with your syrup of choice, fruit, additional cinnamon, nuts, whatever you like!